The WP-PANEL2-SW8 allow to control by WIFI or USB, up to 8 electrical circuits SPDT type of 500Watts (2A/230VAC) each.
Each circuit provide 3 contacts points SPDT : Single Pole Double Throw
From all web browsers (PC, Smartphone, Tablet) or home automation box (or equippment that can send http queries).







Interfaces and drivers
8 control relays independently either
by any HTML5 web browsers from anywhere in the world or just your living room
by programming a powerfull scheduler. up to 256 events at specific time, repetitive or not
by direct orders (directl URL) of the form http://login:pass@192.168.0.190:2000/R3
by computer with USB bus, type "HID device", from your specifi application or the dedicated software (Windows software and .NET DLL for developers provided free)
the onboard web site uses the latest HTML5 technologies, AJAX and jQuery script to provide reports usefull and effective uses, using graphs "Lines" or "Pie". No clound or subscription is necessary, 100% autonomous*.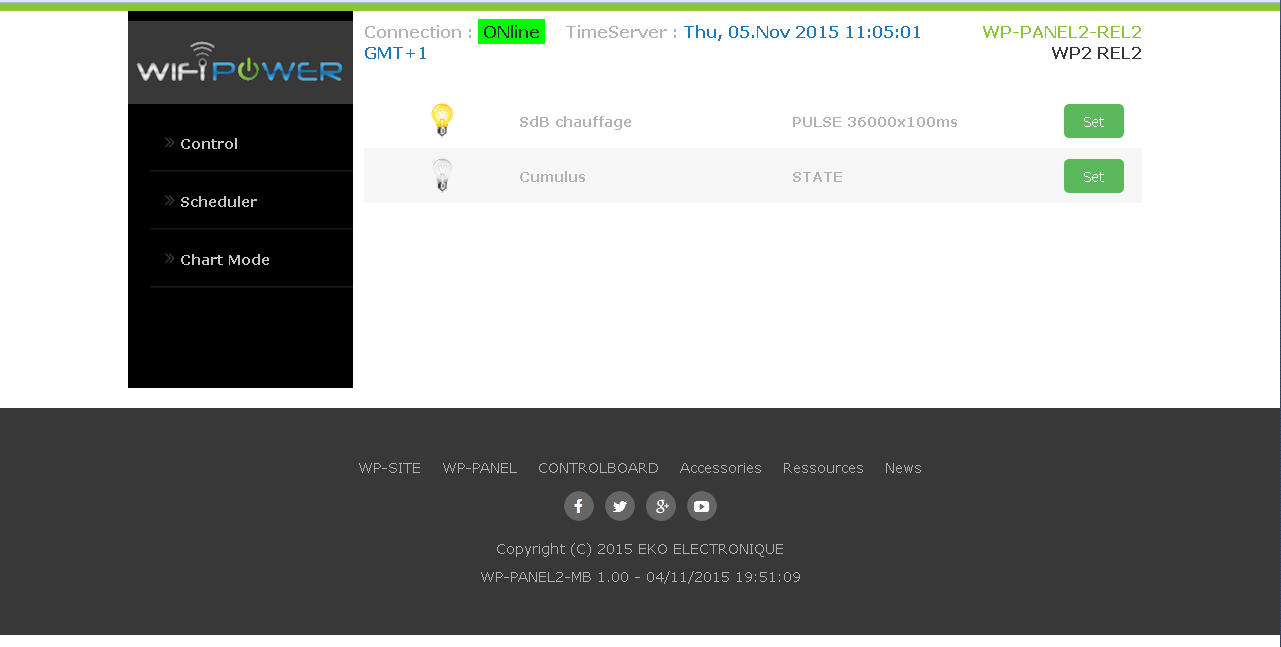 The clock is automatically synchronised to an NTP server. The scheduler allows programming of repetitive ways, or on a single date. A PUSH UDP and/or TCP notification service is available directly to alert your home automation box a change of state. An open API allorws any connected objects knowing send queries HTTP GET and POST, communicate with the WP-PANEL2 and recover them a presetting (JSON and XML).
Package contentsContenu du carton
1 WP-PANEL2-SW8 product
1 2.4GHz omnidirectionnal antenna 5dBi
1 USB cable, USB A male / USB miniB male