The WP-PANEL2-TEMP8 makes it possible to read by WIFI and / or USB, 8 temperature zones, via OneWire probes of DS18B21 type.
From any web browser (Computer, Smartphone, Tablet) or home automation box (or equipment that can send http requests).







Interfaces and pilots
Have 8 temperature area
by any webbrowser compliant HTML5 from anywhere in the word or simply your living room
by direct commands (direct URLs) of the form http://192.168.0.190:2000/Q
by computer with USB bus, "HID device" type, from your application or dedicated software (Windows software and .NET DLL for developers provided free of charge)
Provision of measurements in JSON and XML formats for all home automation boxes
management of 2 alarm thresholds (high / low) for each zone - Transmission of PUSH TCP and / or UDP
Measurements from -55 ° to + 125 ° C on 12 bits (in 0.0625 ° C steps)
Probe Wire length up to 40 meters
The embedded web site use the last HTML5, AJAX and jQuery script technology. No cloud or any fees are necessary, 100. autonomous.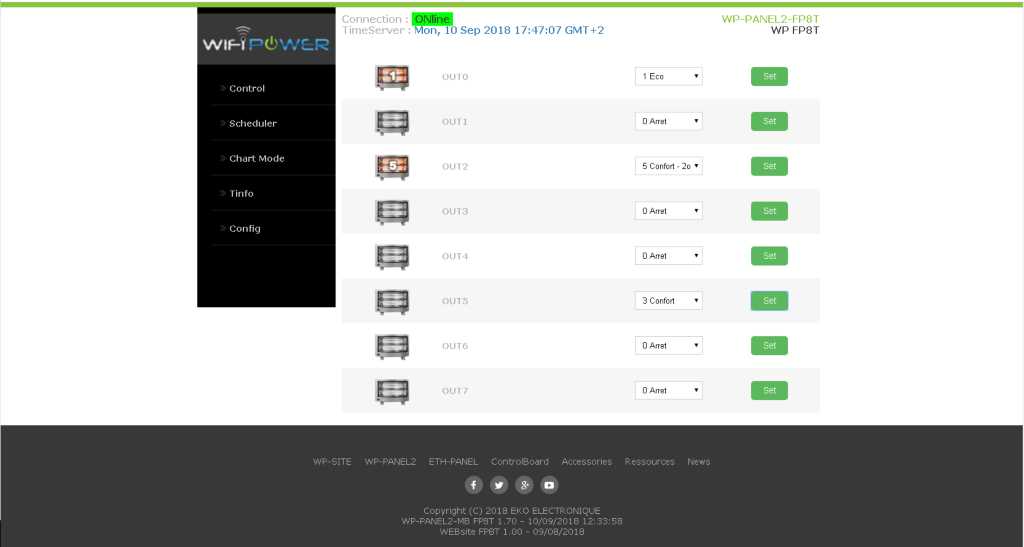 Caractéristics
Enclosure ABS UV-L0, IP10 format DIN 35mm to be used in standard electrical box.
Power 32bits CPU with 16Mbits of FLASH memory, to allow big evolution
Web site can be 100% customized as you want.
FLASH memory area reserved for secure firmware and web site update.
Integrated power supply : 100-240VAC / 50-60Hz
User manuel for software "WP Configurator II" V1.3
Download
---
Software to configure WP-PANEL2 products *** Compatible firmware 1.6 ***
Download
---